Mittwoch, 17. April, 2019
In meiner Virtualbox 6.0(.x) Instanz habe ich ein lokales Webentwicklungsverzeichnis mit mehreren Domains von Entwicklungsumgebungen als Shared Folder in eine CentOS VM geteilt. In jener sind die Verzeichnisse als Apache Webroots via /var/www/[Domainname]/public_html/ angesprochen.
Und wie das so bei Computern ist: von einem Tag auf den anderen funktioniert irgendwas nicht mehr. Heute: das Mounten der Verzeichnisse.
Versuch 1:
Ein Reboot der VM … brachte nichts.
Versuch 2:
Shared Folders funktionieren nur, wenn die Gästetools installiert sind. Es hätte ja durch ein OS-Update der VM einen neuen Kernel gegeben haben. Diese habe ich nochmals installiert. Es wurde ein neuer Kernel compiliert… was einen weiteren Reboot brauchte … es geht aber nicht.
Versuch 3:
So kommt man dem Problem dann näher:
Man öffnet die Logs - das geht via dem Icon rechts einer VM (oh, ich hatte beim Umstellung von Virtualbox 5 auf V 6 lange die Sicherungspunkte gesucht :-)) - hier Logs auswählen. Dann erscheinen mehrere Tabs - das erste davon brauchen wir - die VBox.log.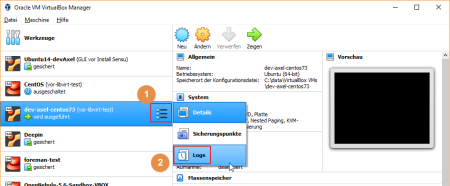 Darin taucht ein Fehler auf:

00:36:51.618960 ASSERT_GUEST_LOGREL F:\tinderbox\win-rel\src\VBox\HostServices\SharedFolders\mappings.cpp(762) 
... int __cdecl vbsfMapFolder(struct _SHFLCLIENTDATA *,struct _SHFLSTRING *,unsigned short,bool,unsigned int *): 
... pFolderMapping->cMappings == 0 || pFolderMapping->fGuestCaseSensitive == fCaseSensitive
00:36:51.618981 Incompatible case sensitivity setting: C:\data\htdocs: 2 mappings, insenitive, requested senitive!
00:36:51.619183 VMMDev: Guest Log: 06:57:31.461002 automount Error: vbsvcAutomounterMountIt: Failed to mount 
... 'htdocs' on '/media/sf_htdocs': Protocol error (-1,71)

Nach jenem

automount Error: vbsvcAutomounterMountIt: Failed to mount 'htdocs' on '/media/sf_htdocs': Protocol error (-1,71)
kann man im Internet micht der Suchmaschine seiner Wahl suchen. Leider wurde ich trotz des Fehlercodes und Wortlaut der Meldung nicht fündig. Das fand ich unlustig. Ich bin also der erste Mensch auf der Welt, der dieses Problem hat :-)
Schauen wir bei den gemeinsamen Ordnern - das hatte ich eingestellt: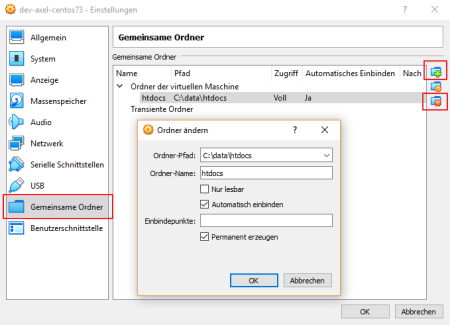 Was aber klappte:
Ich habe die Shared Folder Defintion gelöscht … rechts das Order Symbol mit dem X … im Log erschien

00:39:53.656135 SharedFolders host service: Removing host mapping 'htdocs'
00:39:53.743943 GUI: UIMediumEnumerator: Medium-enumeration finished!

Dann wurde das zuvor Gelöschte 1:1 wieder eingerichtet.

00:40:26.398568 SharedFolders host service: Adding host mapping
00:40:26.398589     Host path 'C:\data\htdocs', map name 'htdocs', writable, automount=true, automntpnt=, create_symlinks=false, missing=false
00:40:26.452420 GUI: UIMediumEnumerator: Medium-enumeration finished!
00:40:27.403966 VMMDev: Guest Log: 07:01:07.246159 automount vbsvcAutomounterMountIt: Successfully mounted 'htdocs' on '/media/sf_htdocs'

Dies hat er eingerichtet - und sofort war es auch in der VM ohne weiteres Zutun gemountet.
Last but not least habe ich die VM nochmals rebootet, um zu schauen, ob es auch nach einem Neustart noch funktioniert … yep, auch dies ging.