Mittwoch, 25. November, 2020
Ich habe auf meinem PC ein BIOS Update gemacht …
… woraufhin die Virtualbox VMs nicht mehr starteten:
AMD-V is disabled in the BIOS (or by the host OS) (VERR_SVM_DISABLED).
Fehlercode E_FAIL 0×80004005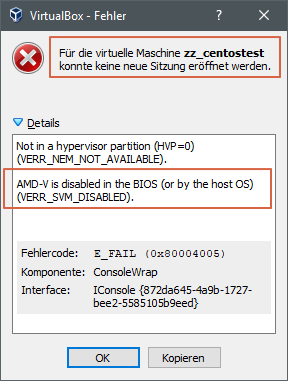 Lösung:
Im BIOS muss nach dessen Update die CPU Virtualisierung aktiviert werden. In "meinem" BIOS nennt sich das Feature Overclocking -> CPU Features -> SVM Mode … jene Einstellung stand auf "Disabled" und musste aktiviert werden.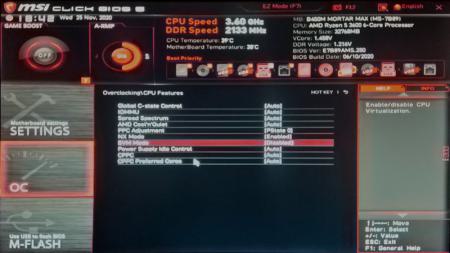 Beim Verlassen des BIOS die Änderungen speichern und nach dem nächsten Start des Betriebssystems starten die virtuellen Maschinen wieder.